Bluffdale Elementary | Home of the Bulldogs!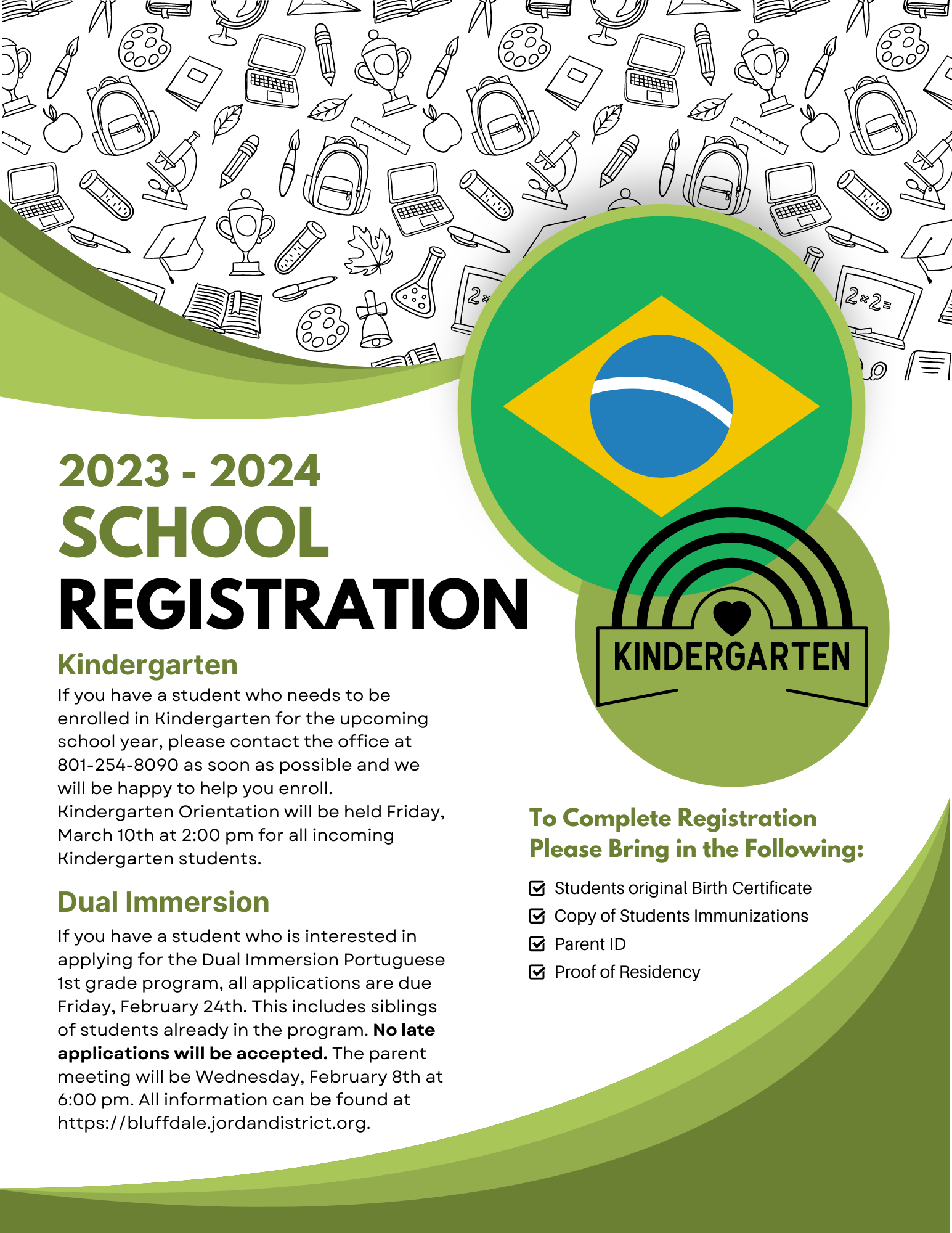 If you have a student that will turn 5 years old on or before Sep 1, 2023, and would like to enroll them in Kindergarten next year, please contact the office at 801-254-8090 as soon as possible and we will be happy to help you enroll. You will then need to complete the online enrollment process and bring the required paperwork to the office. Visit the
Kindergarten Enrollment Information
 page for more details. If you have a neighbor with a qualifying child, please share this information. THANK YOU!
Kindergarten Orientation will be held Friday, March 10th at 2:00 om for all incoming Kindergarten students.
---
Available Position at Bluffdale Elementary
Come work with us in the cafeteria!
We have a position available in our school cafeteria to help with monitoring students while they eat lunch. If you are interested in applying for the position, please click on the following link: Bluffdale Assistant Position. This position is between 2 and 3 hours per day.
---
The Application Period for the Portuguese DLI Program Is Open!
Portuguese Dual Immersion Application
For additional information on Dual Language Immersion in Jordan School District please access the Jordan District Dual Langauge Immersion site here 
Bluffdale Elementary's parent meeting will be held on February 8, 2023, @ 6:00 PM - parents are encouraged but not required to attend.
APPLICATIONS FOR DUAL LANGUAGE (DLI) PROGRAM
An application must be submitted by February 24, 2023, before the student enters 1st grade.  No applications will be accepted after this date.
*It is important to note the school is closed on February 24th for an Elementary Teacher Compensatory Day.
There is no waiting list for the initial application; however, if a student is not randomly selected, that student's name may be placed on a waiting list until the beginning of the school year.
HOW STUDENTS ARE CHOSEN FOR A DLI PROGRAM
In order for a child to be accepted into a DLI program, parents must first complete and submit an application and commitment form for the desired program by the due date.
Applications and commitment forms can be picked up at local schools or accessed at the links to the right side of this page, filled out, then delivered to respective local schools.
Once an application and commitment form has been received, students are randomly selected for a dual immersion program based upon the following criteria:

Priority is given to students who live within the school boundaries.
If there is room in the program for additional students after boundary students have been accepted, students living outside the school boundaries within the district will be accepted, but there will be no busing available for out-of-boundary students.
After meeting the above considerations, students living outside district boundaries will be accepted, but there will be no busing available for out-of-boundary students.
MORE ABOUT THE DLI PROGRAM
Individual meetings have been scheduled at all DLI schools where parents will receive detailed information and will have the opportunity to ask questions.
You can watch the informational video under Resources above and click on Family Resources.
School websites may provide additional information for that school's program.
Bluffdale Elementary's parent meeting will be held on February 8, 2023, @ 6:00 PM.
---
JORDAN DISTRICT DLI WITHDRAWAL GUIDELINE
In the event that a student decides to withdraw from the Dual Language Immersion program, they would not be eligible to return to the program at a later date.
Bluffdale Office Hours
8:30-4:00
Our office construction is complete! With the office move, we want to remind you that you must enter the school building through the front doors (south side of the building) and check in at the office every time you enter the school. If you are checking out a student, you will be asked to show your ID every time (even if we know you). Grade-level doors will now lock at 9:00 a.m., so tardy students must enter through the front doors. If your student is coming for breakfast, they will enter through the doors by the second-grade hall.
---
Check out the Latest Episode of the Jordan Supercast!
The Supercast is hosted by Superintendent Anthony Godfrey who will take you along as he travels throughout Jordan School District visiting students, teachers and staff in our elementary, middle and high schools. If it is something important to parents and students, we hope to feature it right here on the Supercast. So stay tuned, stay informed and let's have some fun talking education together.
Federal Government Ends COVID-19 Meal Program in Schools
The U.S. Department of Agriculture recently announced that it is returning to pre-pandemic rules requiring families to apply for free and reduced lunch, rather than allowing all K-12 students to receive free meals.
Families must once again apply for the income-based free and reduced meals for the 2022-23 school year.
We invite you to listen to this week's episode of the Supercast podcast, which provides important information all parents need to know about school breakfast and lunch for the upcoming school year.
Parents of new students will need to provide:

Birth Certificate
Current Immunization Records or Exemption Form
Proof or address
Photo ID
Any questions please call our office at 801-254-8090.