Bluffdale Elementary | Home of the Bulldogs!
---
Kindergarten Registration is Now Open!
            Check out the amazing presentation our Kinder team put together!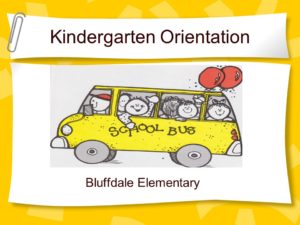 Please read the information below to help get your little one registered!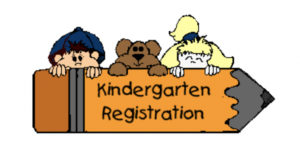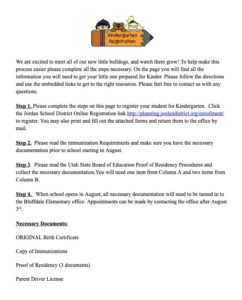 We are excited to meet all of our new little bulldogs, and watch them grow! To help make this process easier please complete all the steps necessary. On the file, you will find all the information you will need to get your little one prepared for Kinder. Please follow the directions and use the embedded links inside the document to get to the right resources. Once you click on the link, you will be able to make a copy of the document. Please feel free to contact us with any questions.
---
Rocky Peak Virtual Elementary School
Pre-Registration is now open!
---
Free and Reduced Meal Application (Please read!)
We are still accepting free/reduced meal applications even though we are serving free lunch to everyone. We will be sending out a letter to every household in the district in the next few weeks asking them to fill one out if they feel they qualify and have not done so this school year.   Free lunch ends in June, and would love to have families have a current application on file when they start the next school year they to avoid having negative lunch balances.
---
Bluffdale  School Opening Plan 
We are so excited to start the 2020-2021 year! We have missed our students so much and cannot wait to see them. After much work, our school reopening plan has been approved and I want to share it with you.  Please click on the following link to open and read.
Friday Schedule
Friday August 28,2020 W.I.N will be postponed. Teachers will participate in meetings and trainings this Friday. This time will allow teachers to prepare for Friday W.I.N and develop a cohesive plan with their team to provide students with the support they will need for future Fridays. Friday W.I.N will be scheduled to begin on Friday September 4th. Teachers will be working on contacting parents and setting up a Friday W.I.N plan for the following Friday. Please read the information below to familiarize yourself with what Fridays will look like in the future. Thank you for all your support!
SCHEDULE FOR FRIDAY-W.I.N. Club (Note: W.I.N. stands for Whatever I Need):
Teachers will be working in grade-level teams to monitor student progress and invite students needing additional time and support to come on Fridays for small group and one-on-one help. The schedule will be 11:00-1:55 PM (Buses will run on a schedule to facilitate this time frame). Students coming for Friday W.I.N. Club will also be given a 30-minute lunch and break time. Parents will be notified at least one week in advance (the Friday before) if their child has been selected for Friday W.I.N. Club. This opportunity is optional. Please let the teacher know as soon as possible if your child is not able to attend so teachers can invite other students.
Lunch will be available (for ALL students including online) from 11:30 to 12:00 on Fridays for students NOT attending W.I.N. Club. Regular charges apply for lunch. PLEASE ENTER THE (dock door WEST SIDE DOOR OF THE CAFETERIA FOR THIS GRAB and GO FRIDAY OPTION. Busing is not available for students not invited to W.I.N. Club.
---
THE NEXT GENERATION OF BOX TOPS IS HERE
Box Tops is changing to fit today's families. The new and improved Box Tops mobile app uses state-of-the-art technology to scan your store receipt, find participating products and instantly add Box Tops to your school's earnings online.
MORE CONVENIENT
Redeem anywhere, anytime within 14 days of purchase
EASY TO USE
No more clipping or sending Box Tops to school
REAL TIME
Your school's earnings are automatically updated online
EXTRA CASH
Access special bonus offers on top of your Box Tops earnings